Wedding is the most important day in every woman's life. Every bride wishes to seem beautiful on her big day glorious and enchanting. In fact, many young ladies are confused about what to wear and how to look best on their wedding day. Well, it's really not easy to select the most suitable wedding wear due to the huge amount of choices.If you're confused in picking the right choice for you, well, I would say, that saree is the right pick that can make you shine like a diva on your big day.
Here are the few aspects to keep in mind while you shop for your wedding sarees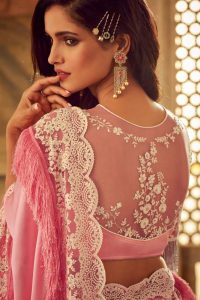 Plan In Advance:
Start your shopping 1-2 months ahead of your wedding day, so that you will have enough time to search for the current trend sarees. Browse in the internet to have an idea on the latest designs, trends and collections just to keep yourself updated.
Decide Your Budget:
It is always important to decide your wedding saree price estimation first. See if your desired saree styles falls under your budget.
Choose The Fabric Of Your Saree
Before purchasing the wedding saree, you need to look at the material used. Bridal sarees ought to be made from luxurious, rich fabrics like satin, brocade, and silk. While buying, you should mainly focus on weaving and decorating work on the saree like stunning embellishments such as crystals, mirror work and beautiful embroidery that can make your saree alluring, and of course, you will look gorgeous in it too.
A Perfect blouse
Every saree goes better when it's paired with a wonderfully designed blouse piece. Well, if you wonder how to find the perfect blouse for yourself, then make sure that you choose a saree which comes with unstitched choli material so that you can wear a truly fashionable blouse! In fact, you can add some decoration to your blouse simply by adding on some embellishments like stones, lace, beads, sequins, and also get some professional embroidery work done on the back and sleeves for that stunning appearance on your big day.
Pick From Different Designs And Prints
The important factor to take note while selecting a bridal saree is the designs, cut and prints on the saree. Mostly, select from silk thread, stonework, sequin work. Always choose sarees according to the series of events of your wedding. i.e for Sangeet go through large prints, heavy embellishments, and dark shades to add more style to your traditional look. And for your grand reception, choose designer pieces with light embroidery or a simple work with a stunning and heavy embroidered contrast blouse.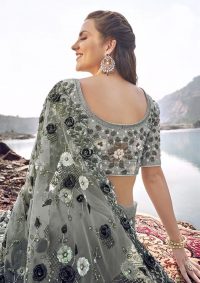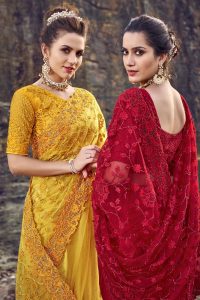 Color That Best Suits You
Before buying the wedding saree choose, which shading you need to wear on your big day. Despite the fact that red and pink are very popular, you can also opt for other colors which are equally beautiful. However, the color you choose ought to go well together with your skin tone.
Finally, for a complete bridal look, choose jewellery according to your saree because they too hold significance. So, choose the right wedding saree online by following these simple picks and be assured regarding yourself in order to appear stunning and fashionable. Happy wedding!